In this article, you will get all the information regarding Anjali Appadurai disqualified from B.C. NDP leadership race
The decision means David Eby will become the 37th premier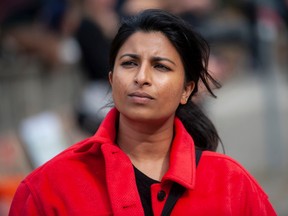 Article content
Anjali Appadurai has officially been disqualified from the NDP leadership race, handing the win to David Eby who becomes the premier designate.
Article content
The B.C. NDP executive voted late Wednesday night to support the recommendation by chief electoral officer Elizabeth Cull that Appadurai's candidacy be rejected over improper co-ordination with third-party environmental groups and fraudulent memberships.
Article content
After a three hour meeting by the party executive, B.C. NDP president Aaron Sumexheltza said in a statement: "This has been a challenging period for members of the party, and I thank Elizabeth Cull, the party's table officers and the executive for their dedication to their roles. I know they did not make this decision lightly.
"As there is only one approved candidate in the leadership race, the CEO is considering moving up the election date and will have more to say on this tomorrow," he said. The original election date for the new leader was set for Dec. 3. 
Article content
Eby, the former attorney general and MLA for Vancouver-Point Grey, will succeed John Horgan as the 37th premier. He will be sworn in in the coming weeks.
When the 45-year-old father of two launched his leadership campaign in July, with the support of nearly the entire NDP caucus and no challengers in sight, he was heralded as the symbol of a generational shift for progressive New Democrats.
However, political experts say Eby's win is tainted through the disqualification of his only opponent. Eby now represents the political establishment he once challenged as a civil rights lawyer with Pivot Legal Society and the B.C. Civil Liberties Association.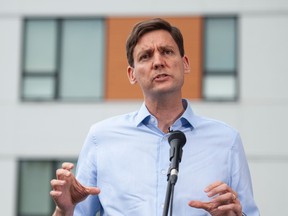 Appadurai has indicated she's not going without a fight and hasn't ruled out a legal challenge.
Article content
She told Postmedia News Wednesday afternoon Cull's report was a built on a "predetermined conclusion" to block her from challenging the establishment candidate.
"As it was clear that we had leverage to actually win, that was too much of a threat to the centralized power of the party," she said hours before the decision was made.
In a statement minutes after Appadurai was disqualified, B.C. Green party leader Sonia Furstenau called the decision "a sad day for democracy."
"Ms. Appadurai's campaign spoke honestly about the overlapping health care, climate, and affordability crises that British Columbians are facing and this government's failure to make progress on them. It's no surprise that so many people were inspired by her message," she said.
Article content
Furstenau appealed to those who joined Appadurai's campaign not to give up on politics.
B.C. Green MLA Adam Olsen said the decision sends a message to voters concerned about climate change: "You are not welcome in the BC NDP."
Olsen said the party treated new members with "hostility and suspicion" and it was clear "there was no way they were ever going to let a climate activist lead their party."
The B.C. Liberals were quick to release an attack ad against the NDP.
"It's disheartening to see the NDP subvert the democratic process within their leadership contest by terminating the candidacy of the only real challenger to the heir-apparent, David Eby, and slam the door on the thousands of British Columbians who joined the NDP to support Anjali Appadurai," said Elenore Sturko, B.C. Liberal MLA for Surrey South.
Article content
Appadurai's campaign is circulating a petition called "Let Her Run," which has more than 3,800 signatures. Several long-serving New Democrats including five NDP MPs and several NDP riding association presidents warned that the party faces irreparable damage if it turfs Appadurai.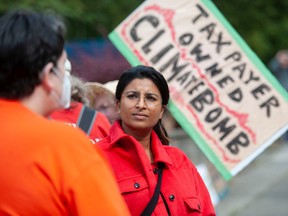 Matthew Green, NDP MP for Hamilton Centre, was blunt in tweeting about Appadurai's impending disqualification: "This is some bulls*** right here."
Marc Eliesen, a longtime NDP supporter who served as deputy minister to former NDP premier Dave Barrett, told Postmedia News in an email Wednesday night he is "deeply saddened by a betrayal of NDP values on democracy and due process."
Cull's report details an Aug. 6 Zoom call as evidence that Appadurai's candidacy was, from day one, linked to environmental advocacy groups Dogwood B.C. and 350 Canada.
Article content
During the Zoom meeting, attended by Appadurai, Dogwood staff and board members and dozens of others, the climate activist agreed to seek the NDP leadership based on a pledge by Dogwood that they would use their resources to email, text and call tens of thousands of supporters and convince them to join the NDP to support her.
Cull found that Dogwood used paid resources to sign up members for Appadurai and accepted contributions from other third parties such as 350.org to fund its ad campaign in support of the insurgent candidate.
The expenses, Cull found, weren't counted toward Appadurai's spending limit and constitute improper campaign contributions that are "serious violations of the rules."
Since the NDP government passed a law in 2017 banning union and corporate donations in politics, it's illegal under the Elections Act for a candidate to receive contributions from organizations.
Article content
Dogwood communications director Kai Nagata said in a statement Wednesday that there is nothing wrong with third parties such as unions, businesses and non-profits encouraging their supporters to join a political party. He insists membership drives were conducted separately from Appadurai's campaign and that the organization's supporter lists weren't shared with the campaign.
The B.C. NDP should "send a thank you card or flowers" for all the new members, Nagata said. "Instead the B.C. NDP has decided to attack Dogwood, the climate movement and their own members. The people who control this party are terrified of grassroots democracy, because it threatens the status quo."
kderosa@postmedia.com
Vaughn Palmer: Report stuffed with evidence against Anjali Appadurai campaign

Anjali Appadurai won't go down without a fight in the face of disqualification from NDP leadership race
---
More news, fewer ads: Our in-depth journalism is possible thanks to the support of our subscribers. For just $3.50 per week, you can get unlimited, ad-lite access to The Vancouver Sun, The Province, National Post and 13 other Canadian news sites. Support us by subscribing today: The Vancouver Sun | The Province.

Anjali Appadurai disqualified from B.C. NDP leadership race
For more visit deathintown.com
Latest News by deathintown.com
Source https://vancouversun.com/news/local-news/anjali-appadurai-disqualified-from-b-c-ndp-leadership-race
#Anjali #Appadurai #disqualified #NDP #leadership #race