In this article, you will get all the information regarding Anjali Appadurai won't go down without a fight in the face of disqualification from NDP leadership race
Elizabeth Cull has recommended Anjali Appadurai be disqualified from the leadership, which decision the 32-year-old climate activist is vowing to fight.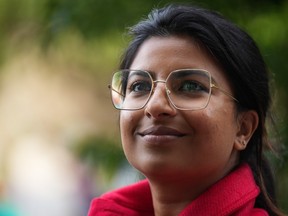 Article content
VICTORIA — On the day Anjali Appadurai agreed to challenge David Eby for the B.C. NDP leadership, she took part in a Zoom call with representatives from environmental group Dogwood B.C. who promised to use their resources to sign up thousands of new party members on her behalf.
Article content
A representative from Dogwood said during the Aug. 6 call the group would "go all out until that (Sept. 4) sign-up deadline."

Article content
"We have a list that we can mobilize of probably tens-of-thousands of people," said someone with the Vancouver-based environmental group Force of Nature.
That call was a key piece of evidence for NDP chief electoral officer Elizabeth Cull who, in a damning report, detailed how Appadurai co-operated with third-party groups and benefited from illegal campaign contributions from the outset of her candidacy.
Cull has recommended Appadurai be disqualified from the leadership, which decision the 32-year-old climate activist is vowing to fight.
Her fate lies in the hands of the NDP executive that in a vote tonight is expected to back Cull's findings. That will hand the NDP leadership to Eby who will become the 37th premier in a matter of weeks.
Article content
Cull also used the Zoom call to poke holes in Appadurai's insistence — to Cull and to the media — that her campaign was independent from any third-party groups and that she had no knowledge that new members had signed up for the NDP while also holding Green party memberships.
Appadurai agreed to seek the leadership during the call based on the pledge by Dogwood and 350 Canada that they would use their resources to email, text and call tens-of-thousands of supporters and convince them to join the NDP to support her.
Filmmaker and climate activist Avi Lewis, who appeared to lead the discussion, said: "I'm excited to have folks from organizations bringing the power of their organizations."
Dogwood B.C. is a Victoria-based, non profit, public interest group that runs environmental campaigns including opposing the expansion of oil tankers off B.C.'s coast, opposing old-growth logging and the Kinder Morgan pipeline. 350 Canada is an environmental advocacy group that advocates for the halting of fossil fuel projects.
Article content
Since the NDP government passed a law in 2017 banning union and corporate donations in politics, it's illegal under the Elections Act for a candidate to receive contributions from organizations.
Cull found that Dogwood used paid resources to sign up members for Appadurai and accepted contributions from other third parties such as 350.org to fund its advertising campaign in support of the insurgent candidate.
"These expenses have not been counted toward Ms. Appadurai's spending limit and involve contributions from ineligible contributors," Cull wrote. "These are serious violations of the rules the B.C. NDP put in place to ensure this leadership contest was conducted fairly and on a level playing field."
Article content
Dogwood communications director Kai Nagata said in a statement Wednesday that there is nothing wrong with third parties such as unions, businesses, faith groups and non-profits encouraging their supporters to join a political party.
Nagata said any membership drives were conducted separately from Appadurai's campaign and that the group's supporter lists weren't shared with the campaign.
"The polite thing (for the B.C. NDP) to do would be to send a thank-you card or flowers," Nagata said. "Instead, the B.C. NDP has decided to attack Dogwood, the climate movement, and their own members. The people who control this party are terrified of grassroots democracy, because it threatens the status quo."
Several senior Dogwood staff, including Nagata and campaigns manager Alexandra Woodsworth, volunteered on Appadurai's campaign, Cull found.
Article content
Woodsworth "publicly and repeatedly encouraged members of other parties to join the B.C. NDP while she volunteered with the Appadurai campaign," Cull wrote.
Woodsworth wrote in an email to potential supporters: "For those who support political parties other than the B.C. NDP but still want to have a say in this race, you could choose to pause your membership and return after you cast your vote. It's also worth noting that parties don't share membership lists with one another and there is no penalty for an overlap in your membership as you switch back-and-forth between parties."
Cull also found evidence that Appadurai knew that some of her supporters had dual memberships with the Greens and NDP despite telling the chief electoral officer and the media that she doesn't condone such behaviour.
Article content
For example, environmental activist David Suzuki told Appadurai he and his family had signed up for the NDP to vote for her. He then told her at a Sept. 7 meeting he was headed to a Green party fundraiser.
Nagata, however, said Cull's report "falsely accuses Dogwood staff of soliciting 'fraudulent' memberships in the party, on the basis that members may have supported other parties in the past. That is not fraud: these are real people with names and addresses who put their hope in the B.C. NDP as a vehicle to address the climate emergency."
Cull's report said during spot checks of new membership applications, 72 per cent of people contacted were deemed to have valid memberships, 25 per cent were ineligible because they were members or supporters of other political parties and 2 1/2 per cent were ineligible because they didn't pay their own membership fees.
Article content
Cull considered disallowing any new members who joined after Aug. 6, which is when Appadurai and Dogwood members held a Zoom meeting to determine if she could mount enough support to launch a leadership bid. However, Cull opted not to do this because she said it could risk disenfranchising the thousands of people who joined the party "in good faith and with a genuine desire to be a part of the B.C. NDP."
Disqualifying members, Cull wrote, doesn't address her "serious concerns about Ms. Appadurai's failures to take any responsibility for the violations committed in relation to her campaign, and her distressingly lackadaisical attitude to her obligations as a leadership candidate."
Cull presented her findings on Oct. 14 to Appadurai, who unsuccessfully appealed the decision. Appadurai's campaign is circulating a petition called "Let Her Run," which has more than 3,800 signatures.
Article content
Appadurai said in a statement Tuesday night she's "disappointed but not surprised by the recommendation."
"From the beginning of this race, however, there's been a careful narrative cultivated online — an absurd story about a hostile takeover by outsiders," she said. "The thousands of new members my campaign attracted have been treated with suspicion."
Appadurai insists her campaign followed the rules.
"This recommendation of disqualification is the result of a biased and unlevel playing field, repeated changes in interpretation of the rules, and ultimately — an attempt to control a situation in which an underdog candidate out-organized the front-runner, signing up many more members in just 25 days," she said.
kderosa@postmedia.com
Anjali Appadurai won't go down without a fight in the face of disqualification from NDP leadership race
For more visit deathintown.com
Latest News by deathintown.com
Source https://vancouversun.com/news/anjali-appadurai-wont-go-down-without-a-fight-in-the-face-of-disqualification-from-ndp-leadership-race
#Anjali #Appadurai #wont #fight #face #disqualification #NDP #leadership #race