While it's easy to check internet speed via the speed test websites or the Task Manager, wouldn't it be easier if we had the option to check the internet speed right from the taskbar or desktop screen? Showing an internet speed meter is possible on Windows, but you need to install third-party applications.
An internet speed meter on the desktop screen or taskbar can help you determine if and when your Windows machine uses more internet bandwidth. Not only will it help you manage your internet data effectively, but it will also help you keep track of connection (speed-related) problems in your network.
How to Test Internet Speed in Windows 11
Since Windows 10 and Windows 11 don't natively support internet speed monitoring, you need to use third-party apps. Below, we have shared a few of the best internet speed meter apps for Windows PC. Let's check out.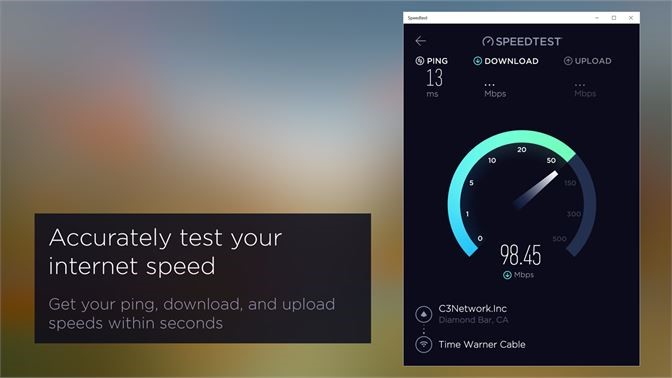 Ookla also has a dedicated Windows app for testing internet speed. The SpeedTest by Ookla desktop app is entirely free to download & use, and it lets you check your internet speeds at the touch of a button.
Apart from the download & upload speed, SpeedTest by Ookla also shows you the Ping, ISP name, and server details. More valuable is that SpeedTest by Ookla app records your speed test result history, allowing you to detect trends over time.
Network Speed Test is a Windows app that lets you check how fast is your internet connection. The program is made by the Microsoft Research team, which measures your network delay, and download & upload speed.
Starting a speed test is also easy; you must open the app and click the Start button. Within a few seconds, the app will return all the relevant information you need.
Like the Speedtest by Ookla, the Network Speed Test also records all network speed test results, allowing you to check how much your ISP's performance has changed over time.
Net Speed Meter may not be a smart option, but it works well. It's an internet speed meter app that shows you the download & upload speed of your internet connection in real time.
The great thing about Net Speed Meter is that it's fully compatible with Windows 11 and can add an internet speed meter right on the Taskbar. This means you no longer need to open the app to check the internet speed, as it feeds the download & upload speed right on your Taskbar.
After analyzing your internet speed & latency, Net Speed Meter also shows you what activities you might be able to do, such as stream music/videos, make video calls, etc.
Data Usage is a data monitoring app for Windows, but it can even perform a network speed test. The app automatically creates a profile for every network you connect with. After creating a network profile, it tracks the data usage and provides the information in a pie chart.
If we talk about the speed test, Data Usage can perform a network speed test to show you the PING, download & upload speed, latency, ISP details, and more. The app is available on the Microsoft Store, and you can download it for free. Regarding compatibility, Data Usage is fully compatible with the latest Windows 11.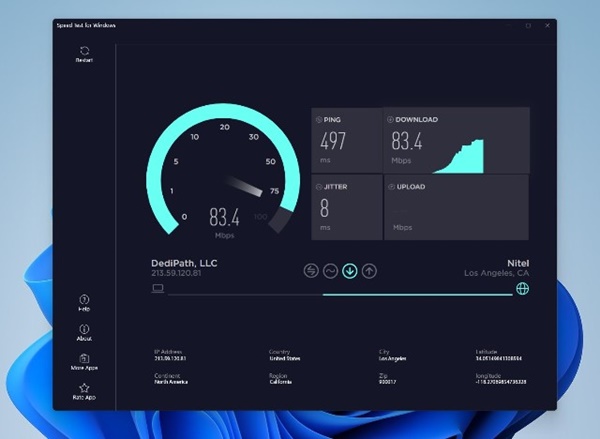 Speed Test for Windows is a Microsoft Store app that lets you test your internet connection speed easily.
The internet speed test tool for PC is available on the Microsoft Store, and you can get it for free. Like the other tools, Speed Test for Windows also lets you test internet connection speed, grab the IP details, measure the quality of your connection (PING), etc.
Along with the PING Tool, Speed Test for Windows also allows you to measure the variation in response time (Jitter). Overall, Speed Test for Windows is a great speed test tool for Windows.
Almost all apps we have listed save the speed test result history. So, these are some of the best apps to test internet speed in Windows 10/11. If you know of any other speed test apps for Windows, let us know in the comments.

#Test #Internet #Speed #Windows
Original Publisher: https://techviral.net/apps-test-internet-speed-windows/