In this article, you will get all the information regarding Hitachi strengthens hybrid cloud business-to develop highly reliable IaaS
Hitachi announced on October 19 that it will strengthen its hybrid cloud business. The content of the company's hybrid cloud solution "EverFlex from Hitachi" will be greatly expanded, and high-reliability IaaS will be added.
EverFlex from Hitachi was launched in October 2021. It features cloud storage services, data infrastructure services, pay-as-you-go (as a service model), etc. This time, in addition to adding support for IaaS in the data infrastructure service, we will provide functions such as failure prediction notification and visualization of greenhouse gas emissions in the operation service. In addition, we will introduce the "Early Adopter Program" to experience the company's cloud storage in advance.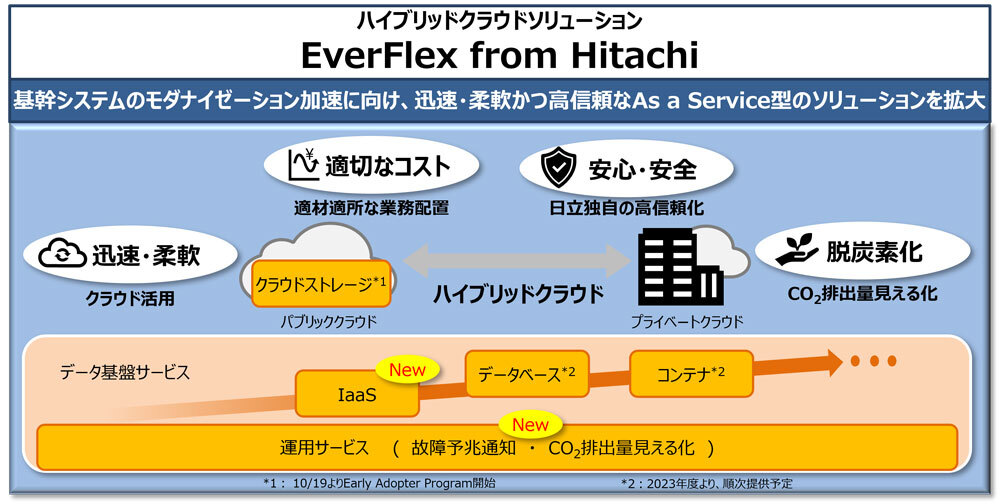 Solution configuration image
In terms of data infrastructure services, first of all, for virtual machine environments using "VMware vSphere", a menu will be launched on February 28, 2023 that enables the use of hybrid clouds that combine IaaS from Hitachi's partners, such as "Hitachi Managed VMware Cloud on AWS". provided from day one.
In the conventional on-premises environment, it was difficult to use functions such as data analysis and machine learning provided by public cloud services due to differences in the environment. The company explains that this response will make it easier to use with high reliability, speed, and flexibility. Customers select the configuration that best suits their application from among multiple recommended configurations that have been pre-verified. Hitachi will be the point of contact for failures and problems.
From November 30th, we will provide a "safety and security plan" to support the availability improvement of IaaS and a "sustainability plan" to support decarbonization.
The "safety and security plan" first targets the storage, detecting signs of failure and proposing maintenance at the appropriate timing. When a problem occurs, the company's engineers investigate the cause based on log information and past failure response records, minimizing IaaS downtime. The target devices will be increased from March 2023, and artificial intelligence (AI) will be used to detect signs of failure in the future.
The "sustainability plan" also targets storage equipment first, grasps the operating status and power consumption, and visualizes the amount of carbon dioxide emissions on the dashboard of the dedicated portal. Servers and switches will be added from March 2023, and it will also support visualization on a system-by-system basis. In the future, the company is also considering providing a service that supports the creation of environmental reports in response to information disclosure requests and a service that supports the reduction of carbon dioxide emissions.
Read ZDNet Japan articles every morning by email (free registration)
Hitachi strengthens hybrid cloud business-to develop highly reliable IaaS
For more visit deathintown.com
Latest News by deathintown.com